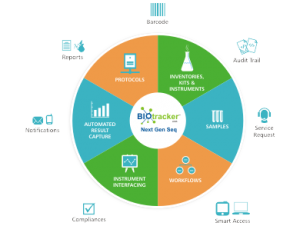 Biotracker ™ for NGs..
Next Generation Sequencing (NGS) technologies include a number of methods that are grouped broadly as sample/template preparation, Library Construction, Clusters/Amplification, Sequencing and imaging, and data analysis. The unique combination of specific protocols distinguishes one technology from another and determines the type of data produced from each platform. These differences in NGS methods raised a need for powerful laboratory information system that can track, integrate and share various processes, resources, data, logistics, compliances and standards.
This is where the traditional LIMS systems have predominately failed to meet the NGS lab information management expectations. Unlike other LIMS vendors, Ocimum's proprietary revolutionary LIMS platform- Biotracker™ LIMS has been a benchmarking standard for Genomic technologies and equally extended its legacy capabilities to better fit for NGS LIMS requirements that can cater to the present and future needs of emerging NGS technologies.
Why Ocimum's NGS LIMS
Ocimum Biotracker™ LIMS is one of the best "All in one NGS LIMS" that has been tailored to address the following NGS lab informatics needs
Lower time, cost and infrastructure required when you choose to use Preconfigured Genomics workflows.


All in one Genomic LIMS supports Affymetrix, Illumina, Life Tech/ABI's, Agilent, and other workflows of Genotyping, Gene Expression and Sequencing.


Powerful configuration tools for quick and efficient modification needs in preconfigured workflows or building a new workflow.


Better collaboration with Lab staff, Customers, Collaborators and Vendors while providing a role based access to all stake holders.


Easy and Efficient Genomic Lab specific, Samples, Inventory, Kits, Instruments, Resource and Data management.


Uni and Bi-directional Instrument interfacing with Sample QC, Hybridization, Plate and Chip transfers, and Scanner machines for faster and secured data capturing.


Interfacing and automation capabilities through APIs with 3rd party systems within and outside the Genomics facility.


Scalable and Pluggable with other Genomic workflows and Technologies such as NGS and Biorepositories.


Retrieve and Report through powerful Reporting engine and search capabilities.


Guaranteed User experience with fully Web based and easy to use UI for scientific and technical resources.


Custom build to fit for R&D, Academic cores, Pharma, CRO and Personal Genomics facilities.


TECHNOLOGIES AND PRE-CONFIGURED WORKFLOWS
Vendor

Instrument

Inventory, Protocols and Workflows supported

Illumina

GA11 , GA11X

Inventory and Equipment: Flow cells, Inventory, Kits, Instruments,
Protocols: Sample Prep, Library Prep, Cluster/Flow cell Prep, Sequencing
Post Sequencing: FASTQ File reading –Sequence Identifiers, QC files, Reads and Quality Scores capturing
Applications: Whole Genome Re- Sequencing, Targeted Re-Sequencing, Chip Seq, Micro RNA Seq, Gene Expression and other

HiSeq 2000, 2000 v3

MiSeq

Roche/454

GS FLX Titanium

Inventory: Inventory, Kits, Pico Titer Plates
Protocols: Library Prep, Emulsion PCR, PTP prep, Pyrosequencing
Post Sequencing: SFF (Standard Flowgram Format) reading, Sequencing reads
Applications: Exome Sequencing, Metagenomics, Whole Genome Sequencing, Transcriptome, Targeted Sequencing, Pathogen Detection

Life Technologies

SOLiD 4

Protocols: Library prep, Emulsion PCR, Flow chip prep(6 lane), Ligastion Sequencing, Primer Reset
Applications: Whole Genome Sequencing, Targeted Sequencing, De Novo Sequencing, Gene Expression profiling, Small RNA, Transcriptome, Methylation Assays

Ion Torrent

Protocols: Sample Prep, Select Targets, Construct Libraries, Prepare Template, Sequencing, Analyze Data
Applications: Targeted Sequencing, Exome Sequencing, Transcriptome, Genome Sequencing

AB1 3700, 3730XL, 3500, 3130

Inventory: 96,384plates, Plate transfers, Cherry picking, Inventory, Kits,
Protocols: Sample preparation (BigDye® Terminator chemistry), PCR Amplification, PCR Cleanup, Sample Purification, Capillary Electrphoresis
Post Sequencing: Basecalling, Mobility Shift Corrections, Quality Value(QV), Chromotograms, .abi and .fsa files reading
Applications: SNP Genotyping, DNA Fragment analysis, RNA Analysis, Genotyping by Sequencing, Targeted Sequencing, Re-sequencing, Microsatellite analysis, AFLP&RFLP detection

Pacific Bio
RS System
Protocols: Sample Prep, Library/Polymerase complex prep (SMART cell), Synthesis Sequencing
Post Sequencing: Movie1>>Raw reads, Post-filter reads, Mapped reads, Movie2>>Raw reads, Post-filter reads, Mapped reads
Applications: De Novo Assembly, Targeted Sequencing, Base Modification Detection.
KEY FEATURES AND MODULES
Genomics specific modules
Genomic Lab Inventory, Inventory restock, Kits management and usage tracking


Plate preparation, Transfers (transfer rules, cherry picking), Plate normalization


Sample pooling, multiplexing, primers/probes, Assay validation, plates/arrays/chips preparation


Preconfigured Genomic workflows – Sample prep, Sample QC, Plate prep, PCR/Amplification, Cleanup, Sequencing/Genotyping/Expression plate prep, Scanning, Results capture and Results


Uni and Bi-directional interfacing Affymetrix, Illumina, Life Tech/ABI's, Agilent, and other instruments


Post sequencing automatic data capture of QC runs, Reads, Sequence files, .abi, .fsa and more


NGS reports- Sample flow, cluster reports, sequencing reports, QC reports, service request, Costing and Invoice reports


Compliance
Audit trails, User logs, System logs, GLP and GXP, 21, CFR Part 11, CLIA*, MIAME, AGCC/GCOS


Functional Modules
ample Management – full sample genealogy, sample custody, sample pooling, Identification, Aliquot, pooling, derive


Instrument Management – Vendor details, procurement details, qualification and maintenance schedules and alerts, up & down time tracking


Scheduling – Instruments, Resources, Samples and Test


Customer/PI Service request Management


Customer and Technology based Invoice


Pre configured, automated reports


Configuration
SOP/Protocol Management


Workflow


Module Design


Instrument Interfacing


Third party software interfacing


Report and Invoice templates


Administration
Organization, Facility users, groups management


Role Management- predefined roles, configurable roles for lab staff, customer, collaborators


Customer, PI and PI staff, Vendor and Collaborators Management


Utilities – ID & 2D Barcodes, Tasks list, Dashboards, Email and SMS notifications


Administrator – Manage settings, configurations, fields, modules, vocabulary


Software Functions
Web based, browser-independent solution


Works on tablet PCs and Smart phones


Offered as "On premise" solution and "SaaS" model


API's for easy, faster and secured data exchange with third party software and instruments


Database Independent