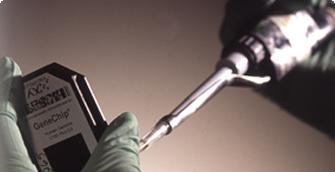 Overview
We offer experience combined with the most flexible approach. We operate multiple platforms, have run many challenging sample types, developed new methodologies and run our own scientific experiments. The quality of our data is validated and is used as a standard for the FDA. Our combination of experience, quality and flexibility ensures that we best meet your needs.
Our Services:
Whole Genome Expression
Arrays that measure thousands of genes simultaneously.

GeneChip® 3′ based expression arrays interrogate each gene with multiple independent probes. Available for many species.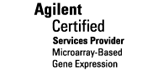 Multiple species. Each array contains genes and transcripts all with public domain annotations.

BeadChip arrays cover multiple species. Human WG array uses over 48,000 probes to cover over 25,000 genes.
Exon Expression
Arrays designed to discriminate alternative spliced forms for thousands of genes simultaneously.

Probes not constrained to 3' end. Multiple probes per exon enable "exon-level" analysis, which allows you to distinguish between different spliced variants of a gene.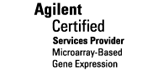 Multiple species. Each array contains genes and transcripts all with public domain annotations.

BeadChip slides cover multiple species and are focused on annotated transcripts. Human Ref 8 array has over 24,000 transcripts.
miRNA Expression
Identifying and measuring small miRNAs.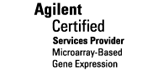 Multiple species. Array probes provide both sequence and size discrimination, yielding in most cases highly specific detection of closely related mature miRNAs.

qRT-PCR with Taqman. Individual assays for human, mouse and rat. Human and rodent also available as low density arrays (TLDA) for simultaneously determining over 300 miRNAs.
TaqMan Analysis
Validating array data on individual transcripts or candidate genes. Assays available individually or in low density arrays for focused sets of genes. Gene Logic has successfully completed the Applied Biosystems Certified Service Provider validation program.
qRT-PCR method, Taqman or SYBR green. Able to distinguish genes and alternatively spliced transcript forms. Available for single genes or in low density arrays (TLDA)
Increasing evidence suggests that copy number variation (CNV) can be associated with human disease susceptibility. We can assist you with data analysis for both genotyping and CNV applications. In addition to statistical analysis results, we supply QC information, along with the raw and derived data from your study.
Bioinformatics Analysis
Gene Logic's Bioinformatics team has helped many clients with study design and results analysis. For study design, our team can access our BioExpress® gene expression data set, which contains normal and disease associated expression profiles. This data can be used for various purposes including identifying likely control genes. In addition to our comprehensive standard bioinformatics reports, we have extensive experience in providing advanced statistical analysis for both research projects and clinical trials. Examples of advanced services that we offer include trend, cluster, component, pathway and ANOVA analysis.
GLP Compliance
For clinical trial work, all our gene expression processes are operated under GLP conditions and we adhere to our strict, internally validated Standard Operating Procedures to generate consistent, high quality data that is comparable between arrays and over time. Our GLP team will put together a customized plan to meet regulatory requirements for your project. Furthermore, we have extensive experience in completing methods and assay development under GLP conditions.
Our Technology Platforms