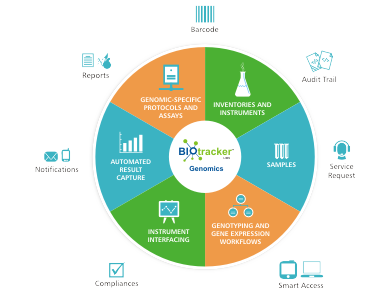 Biotracker™ One LIMS for all Genomic Processes
A Genomic lab processes multiple samples or projects based on contracts and requests, these experiments further are run on various Genotyping, Expression and Sequencing technologies. The resultant data is large, complex, and has various data standards and formats making the data and process management challenging. The data must be captured, securely stored, analyzed, retrieved and shared efficiently across all stake holders within and outside the Facility.
Whether it is an Academic core facility, Big Pharma R&D, Hospital, CRO or Government R&D facility, the Genomics data and process management have raised the potential opportunities to automate several steps of the Genomic process leading to increased throughput.
Ocimum's Biotracker Genomic LIMS is one such early adopted off the shelf LIMS, that efficiently handles the large amounts of Genomic data generated and helps with quality control, tracking of samples, capture and management of data at different steps of the processes, while serving to manage the workflows precisely. Biotracker also supports good laboratory practices by standardizing protocols, recording and annotating data from every step of the workflow.
Why Ocimum's GENOMICS LIMS
Lower time, cost and infrastructure required when you choose to use Preconfigured Genomics workflows.
All in one Genomic LIMS supports Affymetrix, Illumina, Life Tech/ABI's, Agilent, and other workflows of Genotyping, Gene Expression and Sequencing.
Powerful configuration tools for quick and efficient modification needs in preconfigured workflows or building a new workflow.
Better collaboration with Lab staff, Customers, Collaborators and Vendors while providing a role based access to all stake holders.
Easy and Efficient Genomic Lab specific, Samples, Inventory, Kits, Instruments, Resource and Data management.
Uni and Bi-directional Instrument interfacing with Sample QC, Hybridization, Plate and Chip transfers, and Scanner machines for faster and secured data capturing.
Interfacing and automation capabilities through APIs with 3rd party systems within and outside the Genomics facility.
Scalable and Pluggable with other Genomic workflows and Technologies such as NGS and Biorepositories.
Retrieve and Report through powerful Reporting engine and search capabilities.
Guaranteed User experience with fully Web based and easy to use UI for scientific and technical resources.
Custom build to fit for R&D, Academic cores, Pharma, CRO and Personal Genomics facilities.
TECHNOLOGIES AND PRE-CONFIGURED WORKFLOWS
Vendor
Technology and Instruments

Life Technologies, ABI

Taqman 7900 HT, ABI 3730xl, 3730, 3500xl,3500

Affymetrix

Affymetrix GeneChip, GeneChip® Command Console® Software (AGCC)compatible

Illumina

BeadXpress, BeadArray (HiScan and iScan)
Beadchip (iScan and HiScan, HiScanSQ)
Solexa

Sequenom
MassARRAY Nanodispenser, MassARRAY Analyzer
Thermo Scientific
Nanodrop -1000, 2000 and 8000
Agilent
Agilent Gene Spring, Bioanalyzer 2100, 2200
Beckman Coulter
SNPstream®, BioMek FX & NX
Qiagen
AutopureLS
Hitachi
Spectrophotometer U-3010/3310
LI-COR
LI-COR
KEY FEATURES AND MODULES
Genomics Specific Modules
Genomic Lab Inventory, Inventory restock, Kits management and usage tracking


late preparation, Transfers (transfer rules, cherry picking), Plate normalization


Sample pooling, multiplexing, primers/probes, Assay validation, plates/arrays/chips preparation


Preconfigured Genomic workflows – Sample prep, Sample QC, Plate prep, PCR/Amplification, Cleanup, Sequencing/Genotyping/Expression plate prep, Scanning, Results capture and Results


Uni and Bi-directional interfacing Affymetrix, Illumina, Life Tech/ABI's, Agilent, and other instruments


Post sequencing automatic data capture of QC runs, Reads, Sequence files, .abi, .fsa and more


NGS reports- Sample flow, cluster reports, sequencing reports, QC reports, service request, Costing and Invoice reports


Compliance
Audit trails, User logs, System logs, GLP and GXP, 21, CFR Part 11, CLIA*, MIAME, AGCC/GCOS


Functional Modules



Sample Management – full sample genealogy, sample custody, sample pooling, Identification, Aliquot, pooling, derive


Instrument Management – Vendor details, procurement details, qualification and maintenance schedules and alerts, up & down time tracking


Scheduling – Instruments, Resources, Samples and Test


Customer/PI Service request Management


Customer and Technology based Invoice


Pre configured, automated reports


Configuration
SOP/Protocol Management
Workflow


Module Design


Instrument Interfacing


Third party software interfacing


Report and Invoice templates


Administration
Organization, Facility users, groups management


Role Management- predefined roles, configurable roles for lab staff, customer, collaborators


Customer, PI and PI staff, Vendor and Collaborators Management


Utilities – ID & 2D Barcodes, Tasks list, Dashboards, Email and SMS notifications


Administrator – Manage settings, configurations, fields, modules, vocabulary


Software Functions
Web based, browser-independent solution


Works on tablet PCs and Smart phones


Offered as "On premise" solution and "SaaS" model


API's for easy, faster and secured data exchange with third party software and instruments


Database Independent


Pricing:
Various pricing models are available for Academic, Research, Industry, Hospital, Government and Other organizations. Please contact: lims@ocimumbio.com