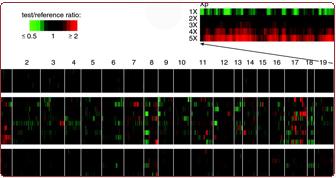 Overview
As one of the first groups to use Affymetrix's genotyping platform, we have extensive experience processing and dealing with genotyping studies. We have expanded our platform offerings to meet the diverse needs of our clients. From copy number variation to whole genome amplifications for low DNA amounts, we can meet your needs.
Our Services
Genotyping and Copy Number
Arrays that measure hundreds of thousands of single nucleotide polymorphisms (SNPs) simultaneously.
Fine Mapping
Arrays that measure tens of thousands of single nucleotide polymorphisms (SNPs) simultaneously.
Individual Assays
Determine a small number of single nucleotide polymorphisms (SNPs) simultaneously in many samples.
Bioinformatics Analysis

The SNP Array 6.0 has near-saturated coverage of SNP variation. Measures over 900,000 SNPs and contains over 900,000 empirically tested probes for detecting copy number variation.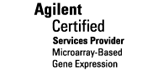 Multiple species copy number variance detection. Human 244A array contains represents over 236,000 coding and noncoding human sequences. Each array contains genes and transcripts all with public domain annotations.

With the Infinium platform, users can select different arrays that can interrogate over 1.1 million SNPs and other non-polymorphic markers

Mid-density genotyping PCR with Taqman OpenArray Genotyping system. Platform allows for a focused set of SNPs to be assayed over a large number of samples.

PCR with TaqMan Assays on Demand Genotyping assays. Can select off-the-shelf assays or custom assays. Relative or absolute values can be determined.
Working with the client, we can provide bioinformatics analysis for determining relative values for TaqMan experiments. We can establish control curves and determine relative fold changes for genes/transcripts of interest. This information can then be cross-matched with the BioExpress data set to look for patterns across normal and disease samples that contain extensive clinical information.
GLP Compliance
For clinical trial work, all our gene expression processes are operated under GLP conditions and we adhere to our strict, internally validated Standard Operating Procedures to generate consistent, high quality data that is comparable between arrays and over time. Our GLP team will put together a customized plan for to meet regulatory requirements for your project. Furthermore, we have extensive experience in completing methods and assay development under GLP conditions.
Sample Types
We accept purified DNA but can also isolate the DNA from tissues, whole blood, cell culture samples, FTA cards and buccal swabs.
DNA Amplification
When template DNA is limited, we can first process the DNA with a whole genome amplification (WGA) step. WGA is used for samples with less than 30ng of DNA.
Our Technology Platforms