Facility Tracker™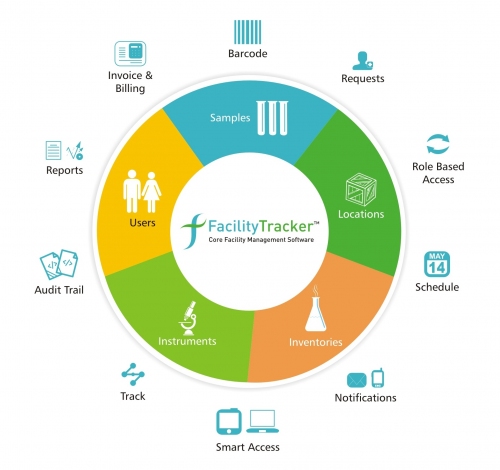 Harnessing the 13+ years of expertise of Ocimum Biosolutions' LIMS and ELN platform Biotracker™, Facility Tracker™ is an innovative and intuitive solution to your Core Facility Management requirements. Facility Tracker™ is exclusive, fully web based, ready-to-use software for Academic, R&D, CRO, Manufacturing and QA&QC core facilities. Facility Tracker™ has evolved from our decade of product and consulting experience in lab automation and lab data management. It is a solution to the need for such a product, identified from our experience in running and working with core facilities.
Why Facility Tracker™
Conceptualized, designed and developed with core objectives:
Save Time and Cost involved in managing core facility.
Increase core operations efficiency both functionally and financially.
Automate and streamline processes with increased communication and connectivity within and outside the core facility.
Low cost of entry, no software and hardware to install and manage.
Fully web based, works best in desktops, laptops and tablet computers.
Option to interface with ELN and upgrade to LIMS.
KEY FEATURES
Functional Modules
Facility users, groups and roles management


Instrument Management


Inventory Management


Sample Management


Inventory Reorder or Restocking


Scheduling – Instruments, Resources, Samples and Test


Customer, PI and PI staff, Vendor and Collaborators Management


Customer/PI Service request Management


Results and Reports tracking


Invoice


Reports


Administration Modules
Utilities – ID & 2D Barcodes, Tasks list, Dashboards, Email and SMS notifications


Administrator – Manage settings, configurations, fields, modules, vocabulary


Additional Modules – Optional
SOP/Protocol Management


Workflow


Module Design


Instrument Interfacing


Third party software interfacing


Scale to LIMS


Compliance
Audit trails, User logs, GLP and GXP, 21 CFR Part 11, caBIG


Software Functions
Web based, browser-independent solution


Works on tablet PCs and Smart phones


Offered as "On premise" solution and "SaaS" model


APIs for easy, faster and secured data exchange with third party software and instruments


Database Independent


CORE FACILITIES SUPPORTED
Life Science
Genomics
Cell and Histology
Biorepositories
Microbiology
Biochemistry
Chemistry
Proteomics
Hospital Research
Pharmaceutical
Diagnostics
Agri Biotech
Animal Research and Housing
Forensic
Food and Nutrition
Manufacturing and Production
DELIVERY MODELS
Available as "On Premise" or "SaaS" model. Whatever be the model, "you will hold complete rights on your data".
On Premise
Facility Tracker™ will be hosted on your premise. You can manage it with Facility Tracker™ Annual Maintenance policy or on your own.
Step 1:Contact Facility Tracker™ representative


Step 2: Our consultants install Facility Tracker™ remotely on your premises and configure to best fit for your facility.


Step 3: Pay using various payment options


You now have Facility Tracker ™ for your core facility.
SaaS
Our team will host and manage your Facility Tracker™ for you.
Step 1: Register online


Step 2: Pay using various payment options


Step 3: Ocimum consultant will configure the Facility Tracker™
You now have Facility Tracker ™ for your core facility.
Pricing:
Various pricing models are available for Academic, Research, Industry, Hospital, Government and Other organizations. Please contact: lims@ocimumbio.com