BioAgri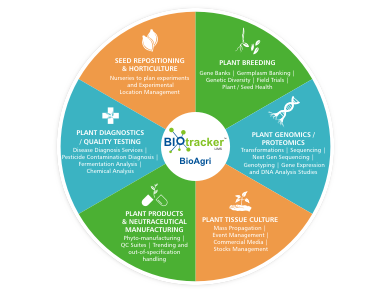 Achieving higher yield(s) and conceiving even higher throughput in operations has always been the goal of the Crop Science and Agri-Biotech companies world-wide. Increased throughputs calls for higher quality assurance, higher quality tracking to mitigate the risks and associated failure costs. In a dynamic vertical like that of the Crop Sciences, higher throughput alleviates the risk of ensuring sustainable success and hence, demands for an effective and in-detail tracking of aspects of the diverse process and workflows. Efficient tracking of in-detail information can be achieved through a robust Laboratory Information Management System (LIMS) like the Biotracker™. Industry specific, Cost Effective, Ease-of-use, Flexibility, Ease-of-Implementation are few of those highly appreciated elements of the Biotracker™ that won this application a special place in Agri-Biotech implementations worldwide and better known as "Only Agri LIMS™"in the market.
Why Ocimum's BioAgri LIMS™
Specifically conceptualized, designed and developed for Crop Sciences vertical.
Pre-configured and custom configurable Crop Science modules and work flows.
The only Agri LIMS in the market implemented in worlds largest Agri R&D, CRO's and Academic Organizations.
Efficient and out of the box functions for both Traditional and Advanced Agri research processes.
Provides an interface for networking between laboratories, green house and field scientists.
Increased turn-around for Service and Research based operations.
Helps efficient compliance with standards, guidelines and audits.
Simple, easy to use, fully web based LIMS.
Agri Specific Modules
Gene Banks
Germplasm Banks
Tag/Barcode Germplasm
Tissue Culture
Nursery and Plot Management
Field Trials
Plant Genealogy
Breed Selection and Trait comparisons
Green House Management
Seed Testing
Plant Genomics
Mating Plot Management.
Image Collation.
Customized Nomenclature for pedigree, genotyping and breeder's conventions.
Pedigree Data Management
Statistical Analyses.
Seed Inventory Management.
Compliance
Audit trails, User logs, GLP and GXP, 21 CFR Part 11,
International Treaties for Crop Development
Plant material Import and Export regulations
Functional Modules
Organization, Facility users, groups management
Roles management
Instrument Management
Inventory Management
Sample/Live stock Management
Inventory Reorder or Restocking
Scheduling – Instruments, Resources, Samples and Test
Customer, PI and PI staff, Vendor and Collaborators Management
Customer/PI Service request Management
Results and Reports tracking
Invoice
Reports
Administration Modules
Utilities – ID & 2D Barcodes, Green house tags, Tasks list, Dashboards, Email and SMS notifications
Administrator – Manage settings, configurations, fields, modules, vocabulary
Software Functions
Web based, browser-independent solution
Works on tablet PCs and Smart phones
Offered as "On premise" solution and "SaaS" model
APIs for easy, faster and secured data exchange with third party software and instruments
Database Independent
Process/Workflow Modules
SOP/Protocol Management
Workflow or Process Design
Test, Experiment and Assay Design.
Module Design
Instrument Interfacing
Third party software interfacing
International crop databases interfacing
Scale to Enterprise Crop Information System
FACILITIES AND WORKFLOWS SUPPORTED
Plant Breeding: Gene Banks and Germplasm Banking, Genetic Diversity, Field Trails, Plant Breeding and Selection and Plant/Seed Health
Plant Genomics: Transformations, Sequencing, Next Gen Sequencing, Genotyping, Gene Expression and DNA Analysis studies.
Plant Proteomics: High Throughput facilities involved in proteomics based Marker Selection of plant varieties, Plant-pathogen interaction studies etc.
Plant Tissue Culture: For tissue culture based units involved in commercial mass propagation of crop species and ornamental plants, event management, event-set based management and commercial media and stocks management.
Plant Products and Neutraceutical Manufacturing: LIMS for phyto-manufacturing, QC suites, trending and out-of-specification handling.
Diagnostics: Disease diagnosis services, pesticide contamination diagnosis, fermentation analyses and chemical analyses.
Horticulture: For gardeners, plant societies, nurseries to plan experiments, organize and manage plant lists, plant specific characteristics databases, layout planning, weather maps and yield recording.